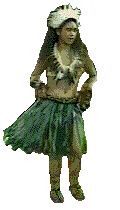 So, what's an alligator gotta do to get some service around here anyway?
| | | | |
| --- | --- | --- | --- |
| | Your link to good food! | Surf's up! Time for the sun, sand, hot tans and cool fun. | |
This year Cheryl and I went on 2 different long weekends. One by ourselves on Memorial Day weekend and another on the 4th of July with Luis, Jessica and Kristen. Take a look, we had a blast!
It's been a long time since Luis has been on vacation with us. Needless to say he got his fill of seafood --

Man can this guy pack away shrimp!

Don't let her impish smile fool you. This gal can both bewitch and beguile. Fortunately, she is also beloved. It was the first time Jessica's been to the beach with us since 1990.
Anyone got chicken fingers?

Kristen, too, spent the long weekend with us. She also learned how to play Backgammon, and holds the title of "most doubles ever".

Whether we're clowning it up...
Eating dinner with those we love...
Or just strolling on the beach at night...

It's always better when we're together!